Laurel Wilson, Arcstudio's principal, is committed to public service. She contributes to her community and to those who are underserved by the design professions by providing leadership services to non-profit, community and educational organizations in the Northwest.
Ms Wilson has curated a number of arts and architecture programs and is a founding director of Space.City, Seattle's Forum for Art and Architecture. Previous community service includes membership on the directorial board of Seattle's Allied Arts, Bainbridge Art and Humanities Council and Bainbridge Public Arts Council.
She volunteers as an educator to bring extracurricular math and design programs into public schools, leads a TED (Technology Entertainment and Design) program for students (TEDxYouth@Odyssey), and coordinates an elementary level Math Olympiad program in the Commodore options program within Bainbridge Island School district.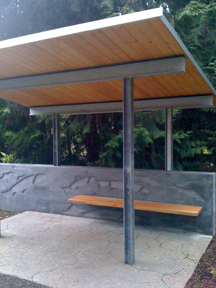 Community Bus Shelter w/ JohnsonSquared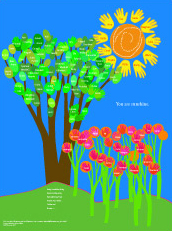 Poster for a Montessori school.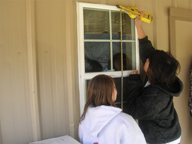 NAWA highschool students learning to measure and survey a campus building.